Chartered Sailing Excursions From South Florida
Call Amanda for Pricing!
Available for Wedding Photos and Engagements!
Amanda Haley
QUALIFICATIONS
50 Ton Master USCG (2018 – present)
Crew and Captain services for multiple deliveries over 950 NM
ASA certificates 101, 103, 104 and 114
Licensed and Bonded Yacht Broker for Navigare Yachting
Jeanneau 54 and 57, Hylas 60, Aspen Power Catamarans- Lifestyle Photo Modeling and Videography Marketing
Crew on a 53ft Swan from Belize to Fort Lauderdale
Paid Delivery Captain Services
I have been sailing since I was a little girl on Prams, Lasers, Sunfish, and crew on larger boats from 32 ft to 60 ft weekly in the local Regattas and Races with the Hillsboro Inlet Sailing club.
I sail a Hobie Wave that I enjoy with my family and friends on the weekends and during the week when I can get away.
I live aboard my 2010 Hunter 49 and keep her active in our local Hillsboro Inlet Sailing Club races and cruises.
Las Olas | 313 Hendricks Isle – Boat #7 Fort Lauderdale, FL 33301
Aspen Power Catamarans Video Marketing Trip to Washington State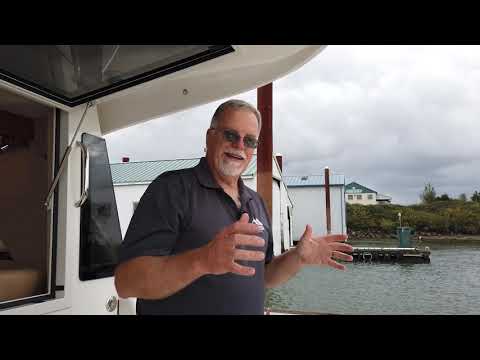 A few years back I met Larry Graf, owner of Aspen Power Catamarans, at the Fort Lauderdale International Boat Show.  We produced a video walkthrough of his Aspen 40 that only had 4 hulls in production at the time.  Since then he has produced over 25 hulls of that same model and the vessels have proven themselves to their owners and in the market.  
The camaraderie that we had on that video and it's viewing success-https://youtu.be/EYpBaEI6UvU - prompted Larry and his son Steve to invite me out to Washington to produce new marketing materials for Aspen.  It was certainly chilly in October, but we had 2 days of non-stop filming and fun.  Larry is an absolute master engineer and if I wasn't such a blow boater, I may consider owning his amazingly detailed and thoroughly thought out Aspen C120.
Here is just one example of the many videos we produced.  If you want to see all their models and the other videos you can visit their YouTube Channel - https://www.youtube.com/c/ASPENPOWERCATAMARANS/videos
Lots of Adventures Lately…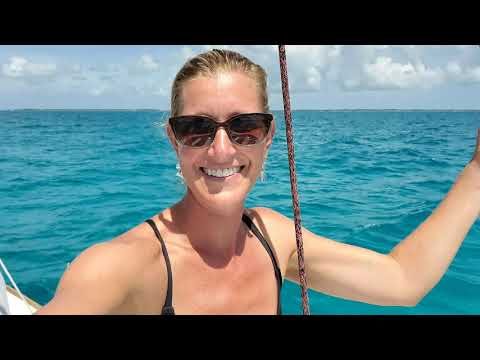 This one was a delivery on S/V Grace from Georgetown to Fort Lauderdale. She is a gorgeous Beneteau Oceanis 45 that was recently sold since her delivery to Fort Lauderdale. She was a hot one on the market and rightly so.  She was stuck in the Bahamas during Covid and we went over to rescue her and bring her back to the states.  Our Crew certainly had a great time learning from our favorite Pirate Captain Jeff Jones.  We caught a Mahi and a few small tuna and Jesus swears we hooked a HUGE Marlin on a Cuban hand line....watch the adventures to see!
Sailing around Cape Hatteras in the Fall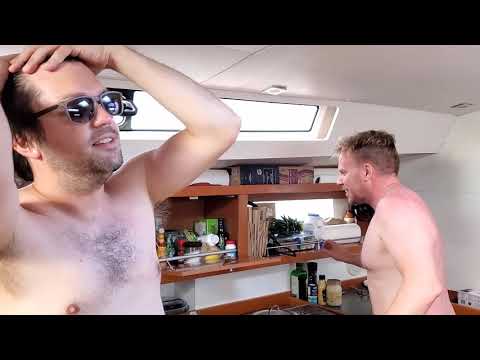 This sailboat delivery on a 2014 Beneteau Oceanis 45 would be as Fun as it was Challenging.  My good friend and fellow Navigare associate Maryline was looking for a vessel that would be a great financial deal, while proving to expand her sailing skills and offering the correct layout for AirBNB management.  Nikita just so happened to be that vessel - you will see in the video when we christen her to Chanceuse which will be her new name soon.
She was sailed from BVI to South Carolina during the height of COVID-19 where she underwent some necessary live-aboard modifications and repairs at Saint Bart's.  This is when we arrive on the scene to deliver her just over 500NM up the Severn River close to Annapolis, Maryland.
I made some great new friends - one being - Jen, a BADASS sailor chick whom I would certainly sail with again.  She was cool, calm, and collected when Mother Nature was throwing some hairy weather our way.  Her personality was delightful and she was always willing to go above and beyond what was asked, even when she was tired.  Not to mention -she really loves to fish - even though we didn't catch anything on this trip.  I am sure we will on trips to come.  Thank you Jen.  I could not have done it without you.  Just remember... DON'T GO TOWARDS THE LIGHT!
The gentlemen on the trip, although green when it came to sailing, treated us ladies like Queens.  They served all our meals and did as much of the "man strength" jobs that they could.  Not only did they provide sustenance, music, and fine meals......they also provided us with some great laughs as well.  Matt - aka "Studmuffin, Stripper Skipper, Cowboy/Pirate/Sailor"  and Blake - aka -.....TBD......Thank you again for taking such fine care of us ladies!
Maryline "Frenchie", May this fine vessel bring you over many waters safely and happily AND without too much bile lost!  You are such a sharp friend and I absolutely love your spirit.  When I first met you - I knew we would be fast friends and it has only proven itself.  Here's to that Lobster we will share hopefully soon....whether it be a Florida Lobster or a Maine Lobsta....that is also TBD!
Bottom Job and Christening of my "new to me" boat INSPIRATION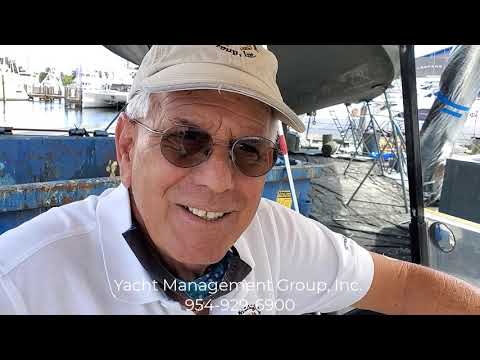 After sailing Santalocura home from Mexico to Fort Lauderdale, I knew she was in need of some lovin' on her bottom.  I took her to none other than my trusted friend Craig and his crew at Yacht Management Group at Harbor Town Marina in Dania Beach, Florida. 
Eddie helped haul out her out expertly and she was blocked and prepped for the work that needed to be done.  She needed full sanding and bottom paint, a few gel coat repairs, a new through-hull for air conditioning intake line, compound and wax on hull sides, and prop speed. 
I also added some DripperGuards - to keep the water stains off the hull.  I used those on Vitamin D and I was highly impressed with the way they work.  Every boat should apply this cheap solution that really keeps a boat looking it's best! 
Lance and Donna from Girard Graphics came out to install the new logo that was created by my beautiful friend Babi.  They did an excellent job and be sure to know they put blood and sweat into their work, but NO tears!
Rick was there for the haul out and splash to expertly maneuver Inspiration through the very pricey boats at the marina!
Finally - I learned the hard way  - that Posiedon needs to be appeased very early in the renaming time frame - so we had the Christening party the very same day she came home from the yard with her new Logo and name INSPIRATION.
3 Ladies Sail from Isla Mujeras to Fort Lauderdale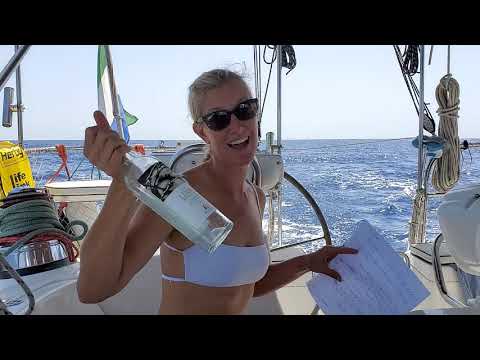 What a great adventure!  3 ladies fly to Mexico during the Covid-19 Pandemic and sail home on a 2010 Hunter 49.  It was not without some mishaps, but we arrived safe and sound.  This gorgeous vessel will by new home and charter boat as well.  Santalocura is soon to be Inspiration!  Watch the journey and see her transformation in videos to come!  At this time - I didn't think she was going to be mine.  I thought I was bringing her to Fort Lauderdale to sell her....little did I know what I treat I was in for.
We sailed straight with a short stop in Key West for more fuel.  The wind was on the nose for pretty much the whole trip except for the last 60 NM.  We had to deal with some logistical issues in the beginning and were not allowed to step foot on the vessel for 3 days - but we provisioned as best we could and when allowed to get on the boat - we were off within a matter of hours.
I caught my first Mahi Mahi!  My sailmates are absolutely against killing and eating fish, but I'm not! It took me forever to fillet it, but I was able to save at least 2.5lbs of meat.  I ate from it for many days and thanked it for its life. I like the American Indian's philosophy of not taking more than you can use and being thankful for every Spirit sacrificed for another.
We arrived safe and sound in Fort Lauderdale in about 5 days.  Thank you again to my wonderful supportive friends Linda and Haylee for taking this adventure with me.