Chartered Sailing Excursions From South Florida
Call Amanda for Pricing!
Available for Wedding Photos and Engagements!
Amanda Haley
QUALIFICATIONS
50 Ton Master USCG (2018 – present)
Crew and Captain services for multiple deliveries over 950 NM
ASA certificates 101, 103, 104 and 114
Licensed and Bonded Yacht Broker for Navigare Yachting
Crew on Jeanneau 54 and 57 Photo Shoot in Key Largo to West Palm
Crew on a 53ft Swan from Belize to Fort Lauderdale Dec. 2015
I have been sailing since I was a little girl on Prams, Lasers, Sunfish, and crew on larger boats from 32 ft to 60 ft weekly in the local Regattas and Races with the Hillsboro Inlet Sailing club.
I sail a Hobie Wave that I enjoy with my family and friends on the weekends and during the week when I can get away.
I live aboard my 2006 Hunter 44 and keep her active in our local Hillsboro Inlet Sailing Club races and cruises.
Las Olas | 313 Hendricks Isle – Boat #7 Fort Lauderdale, FL 33301
Lewmar Winch Wench – how to maintain your winch!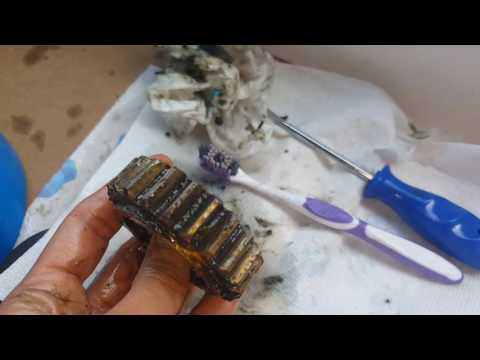 When your winch is getting hard to turn and doesn't have a nice clear sound - you know it is long past time to lube them up. Every winch is completely different. I suggest taking pictures of the disassembly every step along the way to help you put it back together. Also, use something like a box to cover and catch the paws or "springs" when you take it apart. They like to go flying....into the water. I also learned that you can bring the dirty parts to a machine shop to have them professionally cleaned instead of soaking in a degreaser such as diesel. Those are my tips for when you tackle this task on your own boat. People have said to do this at least once a year - most people will do it only after it becomes necessary.
How to rig a Dutchman Furling System and learn about my standing rigging.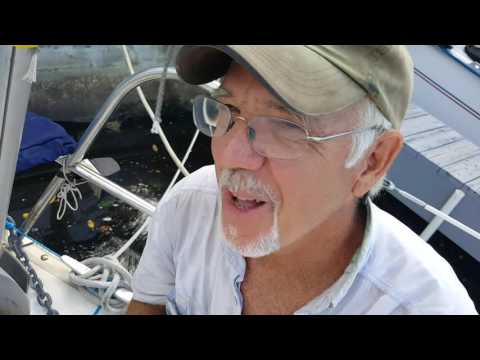 Making sure your standing rigging is properly tuned and balanced is very important for the life of your standing rigging and mast. This boat was fairly new to me at the time, so you will see that I was finding all types of things such as a bird's nest in the boom. One of the Dutchman Monofilament furling lines had broken, so this is also my first time figuring out how that system worked. As you will see, I had to bring the topping lift down in order to have access to the connection point for the line, after that I let it hang with plenty of extra line for when my sails came back from the loft. It's important when running the line to start on the port side and then feed the line back and forth through the sail - not too tight - to allow for the sail to fill out on a down wind course.
How to change Boat Batteries and more fun!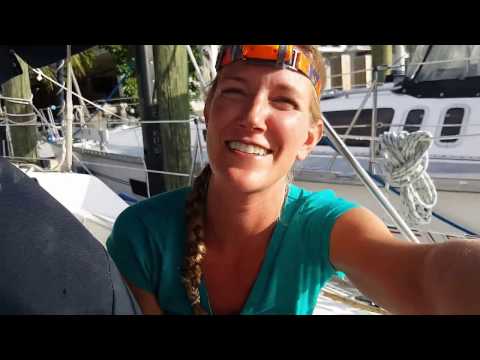 The best kind of learning is when you actually have a patient teacher to watch as you struggle, oversee and instruct in a clear manner. Trial and Error is the best teacher. You will see mistakes and hopefully learn from them.
When all the work is done, then comes the fun. You will see the rewards of our hard work when we fish and swim and play on the dingy. I am proud of how determined my Joshie boy was to hoist the main all by himself! The kids are learning all sorts of things.
How to fix a propeller shaft leak on a Yanmar 3GM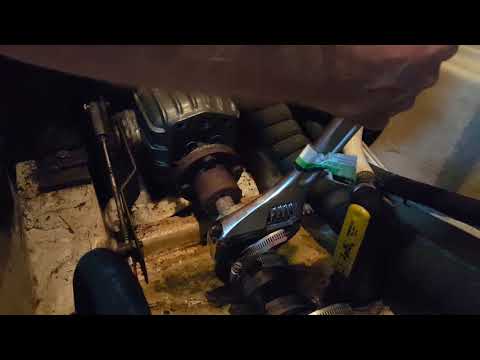 When you have a leak - you should know how to fix it. Thanks to one of my good friends Rick, I was able to learn how to lessen the leak! Some people may have different techniques or suggest different tools. I used what I had and was thankful for the lesson. I am not certain what is the ideal number of drips per minute, but I know it was a lot less after he helped adjust it. The shaft was located under my bed in my 1993 Hunter Legend 35 and I could actually hear the drips when the air conditioning unit cycled off. Having a much dryer bilge was a bonus as well. Thank you again to my wonderful friends who are willing to teach me how to fix things on my own.
Jabsco Joker Valve Fix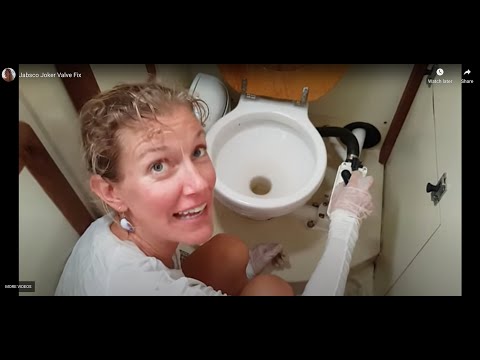 If you have ever owned a boat, you know that a lot of the time on your boat is spent FIXING things. I live on my boat, so the amount of time spent fixing things is almost constant. Remember sometimes the best boat to buy is one that has been lived on...it can't be ignored....it has to be fixed!
This job was one that just couldn't be ignored as nasty water was backing in from the either the tank or the sea water. The Jabsco Joker Valve needed to be replaced! It was a fairly easy fix as you can see from the video. Certainly helps to be a bit smaller person when trying to work in tight spaces.
The trick to no leakage at the end was to make sure the gasket sits properly and to tighten the screws equally little by little on all sides. Meaning, don't tighten one side all the way and then go to the other side. This will make the gasket pop out on one side.
I trust you will find this helpful and learn from my mistakes!